Strike First, Strike Fast!
Soaring above the limitations of geography and environment, birds of prey possess keen eyesight, incredible speed and agility, power, and precision. They are highly adaptive to changing circumstances and are laser-focused on the task at hand.
Systel's Strike product family of rugged SFF embedded compute solutions is purpose-built for intensive video processing and data analytics for mission-critical applications in austere environments at the extreme tactical edge. With a hyperconvergence design approach, Strike embedded computers fuse sensor capture/encode, processing, networking, storage, controls, and distribution into a single powerful and highly configurable Line Replaceable Unit (LRU), significantly minimizing SWaP while maximizing capability and deployability.
Strike systems are fully rugged with advanced thermal management for deployment and integration in any environment. The Strike product family is engineered with a standards-based approach utilizing open architectures and COTS technologies, and using a Modular Open Systems Approach (MOSA). Strike systems feature:
High-performance CPU/GPU processing
Edge AI capabilities

Multi-sensor and multi-format video capture and encode options

Dense IO and robust modular expansion/upgrade capabilities

High-capacity and secure storage

Extended operating temperature ranges and MIL-SPEC ruggedness

Integrated DC-DC power supplies (18-36VDC, 28VDC nominal) conforming to MIL-STD-1275E and MIL-STD-704F (no power hold-up unless otherwise stated)
View Our Embedded Computing Solutions
Sparrow-Strike
Ultra-Small-Form-Factor (USFF) Edge Processor
Ultra-compact and lightweight compute solution

Integrated NVIDIA Jetson Orin NX (edge AI) or SMARC Intel x86 CPU (compute at the edge)

Modular architecture and chassis design with alternative materials available to reduce weight even further

Up to -40C to +55C operating temp | MIL-SPEC rugged | Fully sealed
Product Line
Kite-Strike
NVIDIA Jetson Based Edge AI Compute Solutions
Next-gen edge AI compute solution
Integrates the NVIDIA Jetson AGX Orin (32GB or 64GB) – the world's most powerful embedded AI computing engine
Ampere GPU with up to 2048 CUDA cores and 64 Tensor cores; 12-core ARM CPU
Highly SWaP-optimized
Open standards architecture designed with a modular open systems approach (MOSA)
Robust IO including multiple 10GbE copper, USB 3.0, CAN

Enables real-time inferencing and provide centralized sensor ingest and data fusion support

Up to -46C to +65C operating temp | MIL-SPEC rugged | Fully sealed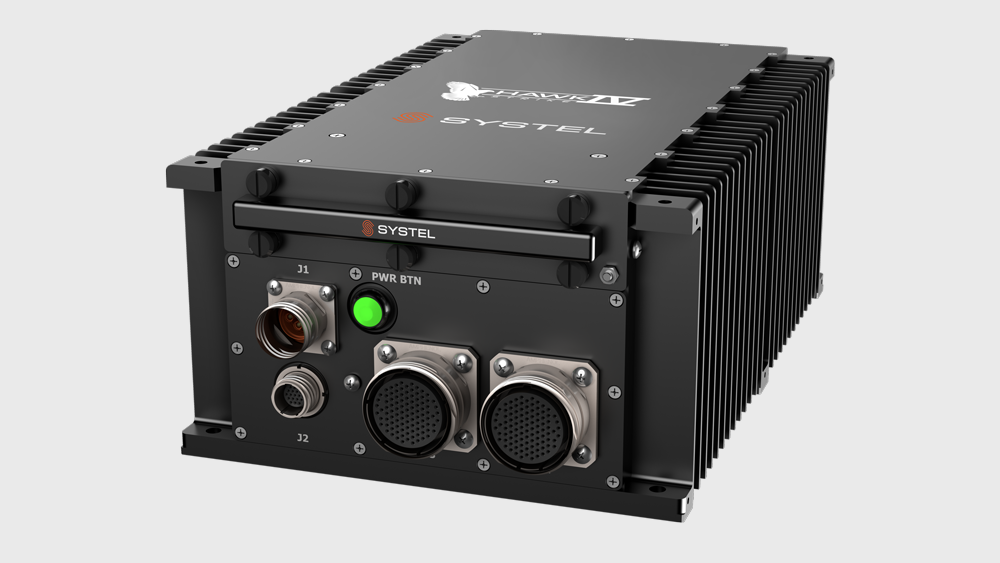 Product Line
Hawk-Strike
Workstation-Class Multi-Mission Embedded Systems
High-performance workstation-class SWaP-optimized multi-mission systems

Latest Intel Xeon/Core mobile CPU and NVIDIA embedded GPU

Dual high-capacity removable SSDs
Dense IO and robust system expansion options

Up to -40C to +60C operating temp | MIL-SPEC rugged | Fully sealed

Over 400 units deployed for defense and commercial applications on rotary-wing aircraft (helicopters), fixed-wing aircraft, ground combat vehicles, unmanned ground vehicles (UGVs) and ships.
Product Line
Raven-Strike
Enterprise Server-Class Compute Engines
Enterprise server-class computing solutions

Latest Inte Xeon SP CPU and NVIDIA Ampere GPU

PCIe Gen 4.0 data transfer rates

High-bandwidth networking and high-capacity storage

Immense system expansion and configurability options

Meets Standardized A-Kit / Vehicle Envelope (SAVE) specifications to mount to SINCGARS MT-6352 tray

Up to -40C to +55C operating temp | MIL-SPEC rugged | Fully sealed
Let's Talk!
Get in touch with our team today to discuss your mission requirements.