Systel will be closed on Monday May 29 in observance of Memorial Day. We will resume normal business hours on Tuesday May 30.
Optimized for artificial intelligence applications, Systel's industrial computers have been successfully deployed to meet the need for rugged edge computing needs in a variety of environments.
Systel rugged embedded computers are powered by NVIDIA Jetson processors capable of roles including artificial intelligence, machine learning, autonomy, and robotics.
We offer flexible and powerful processing capabilities for Level 0 to Level 4 (L0-L4) commercial vehicle autonomy.
Product Family
Rugged, Compact Embedded Computers
Small- and Ultra-small-form-factor rugged embedded edge computers for highly constrained space claims and power budgets in challenging environments. Common applications include industrial control systems, artificial intelligence, sensor ingest, and vehicle-mounted workstations.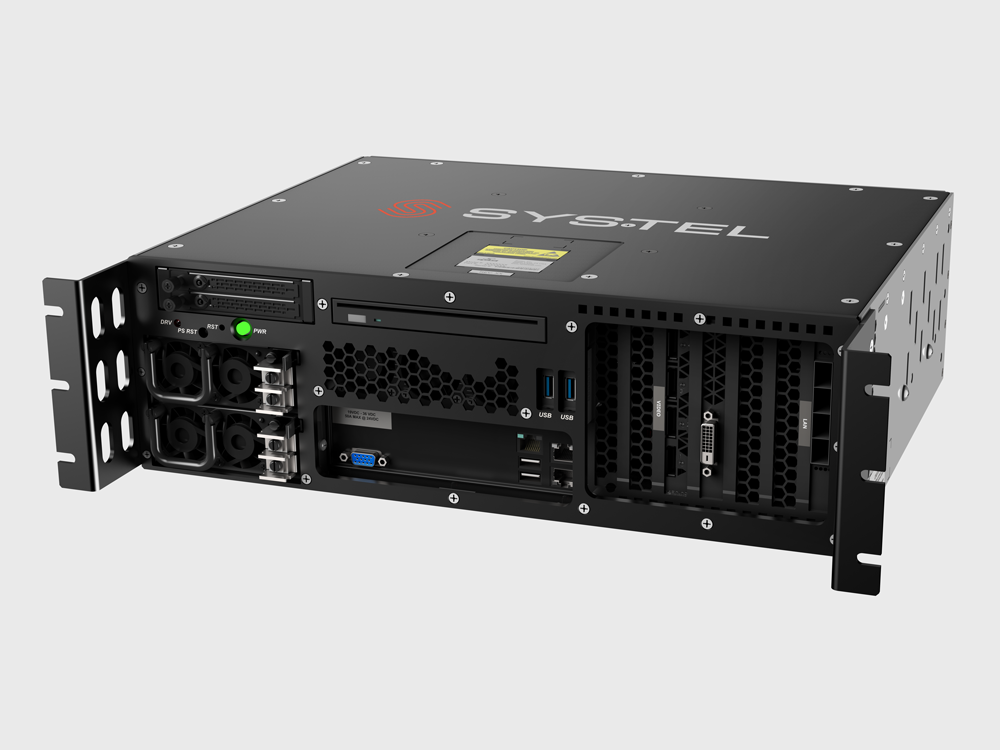 Product Family
Rugged Rackmount Servers
Systel rugged and reliable rackmount servers are engineered and built for continuous operation in complex environments. Over the past 30+ years, we have delivered thousands of rack computers to defense and commercial enterprises worldwide.  To ensure perfect interoperability, each of our servers are built using COTS components, but modified and ruggedized to meet your specific needs.
Configurable 1U-4U Form Factors

Half-Rack Width and Short Depth Options

Non-Standard Custom Layouts Available

Front Accessible I/O Options

Industrial to Fully Rugged/Sealed
Request a Quote
Why Systel?
In business for over 30 years
Made in the USA
Purpose-built, COTS components, open systems design philosophy
Superior quality and service, competitively priced
Hundreds of successful military and commercial deployments globally
Complete the form, tell us a little about your requirements, and let us provide you with a quote.
We design and deliver equipment solutions for the global Oil & Gas industry with deployed solutions in extreme environments around the globe. We chose Systel as our preferred partner for servers because of their high quality, environmental specifications, rigorous testing, well thought-out design and excellent customer support. In our experience Systel systems have excellent performance and stability. Systel has contributed to our success in all the customer projects where we have deployed their servers. We are very satisfied with the value that is delivered by Systel and look forward to partnering with Systel on future projects.
Principal Architect
Oil and Gas Equipment Manufacturer
We found Systel's emphasis on military style ruggedness with proven capabilities along with previous certifications and robust life-cycle management to be very compelling. We were also very impressed by Systel's ability to act quickly to our RFP request with a comprehensive proposal.
Procurement Manager
Fortune 500 Advanced Technology and Research Defense Contractor - U.S. Marine Corps Program
Thanks for the great cooperation, it was a tight schedule but Systel really pulled through for us. We are looking forward to testing and deploying your computer on our UAV projects.
Project Lead
EU Defense Contractor - Autonomous Vehicle Program
We needed a vendor that could meet our rugged specs especially in terms of shock and vibration and we found that vendor in Systel. They have the shock and high velocity equipment that we need. To ensure the quality of Systel's products before purchasing, we environmental tested (MIL-STD-810) Systel's 4U rack mount computers in their transit case and the computers passed with flying colors. Today, we buy a variety of products from Systel including 4U rack mount computers (IPC44410) and 19" displays (FPD7192). Systel was our first choice in 2005, and we have been buying from them ever since.
Senior Test Engineer
Fortune 100 Defense Contractor